MAJOR SPOILERS AHEAD!!
▼
===
CATALYST: "
Wake up."
SHEPARD: "
What? Where am I?"
CATALYST: "
The Citadel. It's my home."
===
(Then why haven't we met you before? I've been to the Citadel 800 times, and we've never ran into each other?)
===
SHEPARD: "
Who are you?"
CATALYST: "
I am The Catalyst."
SHEPARD: "
I thought the Citadel was the Catalyst."
CATALYST: "
No. The Citadel is part of me."
===
(I'm Commander Shepard, and this is my favourite Citadel on the... Citadel.
What part of you is the Citadel? Your dick? Is it your space-penis? Are the Reapers your giant robo-sperms?)
===
SHEPARD: "
I need to stop the Reapers. Do you know how I can do that?"
CATALYST: "
Perhaps. I control the Reapers. They are my solution."
===
(...You control the Reapers? Oh, so you're the guy responsible for the needless death of everyone I ever cared about.
Sure, I'll co-operate with the universe's most prolific mass-murderer, with a killstreak in the trillions, who has only caused me personal suffering to further his own goals. Do go on...)
===
SHEPARD: "
The solution to what?"
CATALYST: "
Chaos. The created will always rebel against their creators.
But we found a way to stop that from happening. A way to restore order for the next cycle."
===
(I found a way to stop that from happening too, and I didn't have to kill everything. Multiple times. I restored order between synthetics and organics. The created are now at peace with their creators. So your "solution" is provably bullshit. Turn off the Reapers please.)
===
SHEPARD: "
By wiping out organic life?"
STARCHILD: "
No. We harvest advanced civilizations, leaving the younger ones alone. Just as we left your people alive the last time we were here."
===
(How exactly does eliminating diversity in the universe help anyone? I mean, besides Rick Santorum.)
===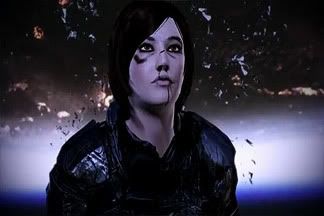 SHEPARD: "
But you killed the rest."
HAM-HANDED ALLEGORY FOR SOMETHING STUPID: "
We helped them ascend, so we could make way for new life, storing the old life in Reaper form."
===
(Ascend to what? What, do you expect me to be grateful? Even if that were life in any definition of the word, commiting intergalactic genocide is not something I want to be a part of. Who the fuck are you to make that decision for us?)
===
SHEPARD: "
I think we'd rather keep our own form."
LITTLE TWAT: "
No, you can't.
Without us to stop it, synthetics would destroy all organic life.
We've created the cycle so that never happens. That's the solution."
===
(...That is the dumbest "solution" anyone has ever come up with, for any problem. That's like flooding the Earth and drowning everyone so that we won't get splashed.
You make robots kill everyone so robots won't kill everyone. If you didn't want everyone to be killed by robots, maybe stop sending robots to kill everyone. I can't even... Mac Walters has down syndrome.
Why is this even being brought up? The Synthetics vs. Organics angle wasn't the main theme! It was a C-story, and it was resolved! The Geth aren't hurting anyone anymore, and even then they only acted out of self-defense, or when you brainwashed them into mindless killing machines!! When your solution became unnecessary, you created a problem just to justify your own existence!
Did these people seriously forget what game they were writing when it came time to write THE MOST IMPORTANT PART OF THE FRANCHISE?)
===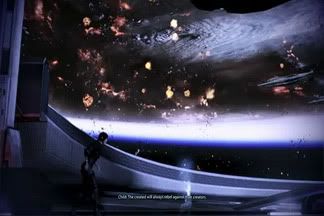 SHEPARD: "
But you're taking away our future! Without future, we have no hope. Without hope, we might as well be machines, programmed to do what we're told."
BABY FAT: "
You have hope. More than you think. The fact that you are standing here, the first organic ever, proves it.
But it also proves my solution won't work anymore."
===
(Okay, so you admit you failed. Millions of years after it would have made a difference. AFTER you allowed Benezia, Ashley, Wrex, Saren, Gabby, Kelly, Rupert, Thane, Grunt, Zaeed, Miranda, Mordin, Samara, Legion, Kirrahe, Udina, Garrus, Tali, TIM and Anderson to die.
Well, since you control the Reapers, and you admit you don't need them any more, call them off. Problem-solved.)
===
SHEPARD: "
So now what?"
ANAKIN: "
We find a new solution."
===
(You mean like you shutting down or calling off the Reapers? Because you said you control the Reapers, so I believe that's a thing you could do. Otherwise you would have lied to me for no real reason, to no one's benefit, not even your own.
Did... Did you just say that because you thought it would impress me?)
===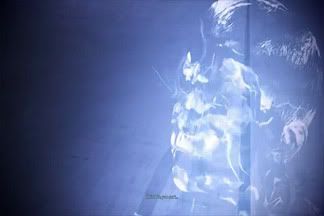 SHEPARD: "
Yeah, but how?"
CULKIN: "
The Crucible changed me. Created new... possibilities. But I can't make them happen.
I know you've thought about destroying us. You can wipe out all synthetic life if you want. Including the geth. Even you are partly synthetic."
===
(Why would I want to kill the Geth? They're my allies. And even if I did, would this kill anyone with cybernetic implants? Will Kaiden or the Quarians die too?)
===
SHEPARD: "
But the Reapers will be destroyed?"
ALFALFA: "
Yes. But the peace won't last. Soon, your children will create synthetics, and then the chaos will come back."
===
(Was this game written by Peter Chimaera?)
===
SHEPARD: "
Maybe..."
JAR-JAR: "
Or do you think you can control us?"
===
(Ugh, fine, whatever, if it'll just end this war already.)
===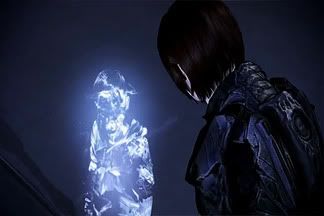 SHEPARD: "
Huh? So... The Illusive Man was right after all."
SEAN HAYES: "
Yes, but he could never have taken control... because we already controlled him."
===
(Umm... Mind if I ask why you did that, exactly? Were you trying to get humanity infighting, to slow us down? Because it didn't work. Clearly if I'm having this conversation with you, it didn't work.
Did you indoctrinate Udina by the way, or was he just an asshole? If you did, how would him killing the Council have helped?

You're bad at problem-solving.)
===
SHEPARD: "
But I can..."
JOAN RIVERS: "
You will die. You will control us, but you will lose everything you have."
===
("I will die but I will control you"?? How the fuck can I control you if I'm DEAD?! If I'm dead, will the Reapers die too because they're under my "control"?
And what the fuck do you mean by "lose everything"? What is "everything"? My planet? My species? My squad-mates? My space-hamster?)
===
SHEPARD: "
But the Reapers will obey me?"
SATAN: "
Yes. There is another solution."
===
(Yes. SHUT DOWN THE REAPERS YOURSELF, BECAUSE YOU CONTROL THEM, REMEMBER?)
===
SHEPARD: "
Yeah?"
C-WORD: "
Synthesis."
===
(What do plants have to do with this?)
===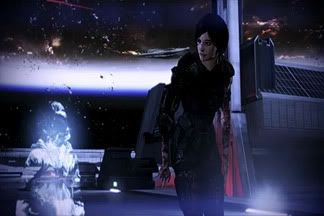 SHEPARD: "
And that is?"
SPONGEBOB: "
Add your energy to the Crucible's. Everything you are will be absorbed, and then sent out. The chain reaction will combine all synthetic and organic life into a new framework.
A new... DNA."
===
(...What exactly would that accomplish? Would it just mask our organics to the Reapers? Will the Reapers become part organic, and thus have to kill themselves? What about genitals? Organic life needs to procreate. Will the Reapers grow huge boobs?
I don't think you've thought this through.)
===
SHEPARD: "
I... don't know."
BOBBY KOTICK: "
Why not? Synthetics are already part of you. Can you imagine your life without them?"
===
(Don't piss in my ear and tell me it's raining.

Yeah, additions to my standard organic frame. I didn't become half-robot, I just got some attachments to boost my organic side of things. I didn't split myself 50/50 between machine and human, I just added an extra 10-25% to my 100% fleshy frame.
And even if I couldn't imagine my life without them, not everyone has implants. They can imagine life without synthetics just fine. Maybe neither of us has a right to inflict that kind of base conformity on people who don't want it, when there are other options available.)
===
SHEPARD: "
And there will be peace?"
GABE NEWELL: "
The cycle will end. Synthesis is the final evolution of life.
But we need each other to make it happen. You have a difficult decision. Releasing the energy of the Crucible will end the cycle, but it will also destroy the mass relays.
The paths are open. But you have to choose."
===
(We don't need each other. You control the Reapers. You can stop this right now.
The whole point of these games is that both of us refuse to let the other live. Why the fuck would you want to co-operate with me? Why the fuck should I co-operate with you? You are the single worst life form in the history of existence! There is no number high enough to tally the death and suffering you caused, to prevent undue death and suffering! You say you fight chaos, but that's all you've brought to the galaxy!
I let Ashley and Wrex die for this? I cured the genophage, kept the Collector Base, stopped the Collectors, let the Council die, released the Rachni queen, killed Thresher Maws, came back from the dead, stopped Saren, stopped Sovereign, stopped the Illusive Man and watched my world burn... FOR THIS?
All of these options are awful. I refuse to participate. That's my choice. I'd rather bleed out and doom the universe than accept your stupid, shitty terms.)
CATALYST: "
WHAT STARTS WITH THE LETTER 'C'?"
(Uh... Cookie? Cream? Counter? Collector?...
...
...Oh no.)
CATALYST: "
HAHAHAHAHAHHA"
(NO!!)
CATALYST: "
NOW YOU SEE ME IN MY TRUE FORM"
(...Casey Hudson, project lead for Mass Effect 3!)
CASEY HUDSON: "
ASSUMING DIRECT CONTROL"
(You bastard! You KNEW what we had invested into this! You knew we were willing to put up with so much of your crap already! Kai Leng. That emotionally manipulative kid's death scene at the beginning. Freddie Prinze Jr. Even Mark Meer.
But you've gone too far this time!)
CASEY HUDSON: "
WHAT OF IT? YOU WILL STILL BUY ALL BIOWARE GAMES. THIS HURTS YOU."
(No! I... can't. I can't keep supporting you ruining everything at the last second, like a pathetic wannabe M. Night Shyamalan, or an early-bloomer George Lucas.)
CASEY HUDSON: "
IT DOES NOT MATTER. YOUR MONEY NOW BELONGS TO ME. YOUR SUFFERING FUELS MY HATE-ENGINE."
(Hate-engine?)
CASEY HUDSON: "
WE CALL IT: 'ELECTRONIC ARTS'"
(lol, satire)
CASEY HUDSON: "
NOW THEN, BACK TO RAPING EVERYONE'S EXPECTATIONS"
(Yeah? Well, I know your one weakness!)
CASEY HUDSON: "
YOU CANNOT COMPREHEND THE NATURE OF MY ATTACK... WAIT, IS THAT A MASS EFFECT REFERENCE? i don't really play video games"
(I can still buy your games... USED!)
CASEY HUDSON: "
NO! NOOOO!!! HOW CAN THIS BE?!?! I AM INVINCIBLLLLLLLEEEEEE!!!!11!#rj 3I0GHDSKLHGADKJSerror"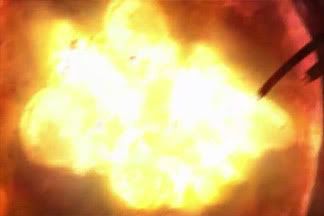 ~~~
~~~~(EPILOGUE)~~~~
~~~
BUZZ ALDRIN: "
Every life is a special story of its own. But not as special as mine, because I was on the fucking moon.

Now if you'll excuse me, Commander Shepard, Katy Perry , Abraham Lincoln and myself are late for a party at Snoop's."
"Buzz out, bitches."
========================
END OF LINE
~A.H.